Hola!
I intended to get this post up a lot sooner....but, you know, cake pops got in the way.
We had a fun, laid-back Cinco de Mayo this year. We cooked at home and had two of our great friends over. Mexican food is some of my favorite and easy to make at home.
Mexico holds a special place in our hearts. We love to vacation there so much, we even got married there! While our food (and weather) wasn't exactly like Cabo, we had fun reminiscing!
I bought this figurine on the night of our rehearsal dinner, at
Mi Casa
, a great restaurant in downtown Cabo.
Cinco de Mayo menu:
Slow cooked pork tacos
margaritas
chips/salsa/guacamole
margaritas
Mexican cinnamon brownies
margaritas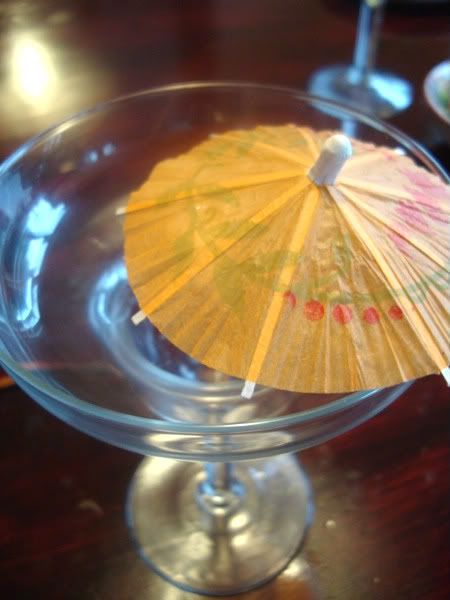 I like a very basic margarita. I think margarita mix is way too sweet and artificial and it contains HFCS, which you know I abhor. All you need is tequila, triple sec, lime, lemon, and I like to add a little orange juice. This is a great mix for throwing together in a pitcher and honestly, I don't measure, I just mix it to taste, you know what you and your guests like.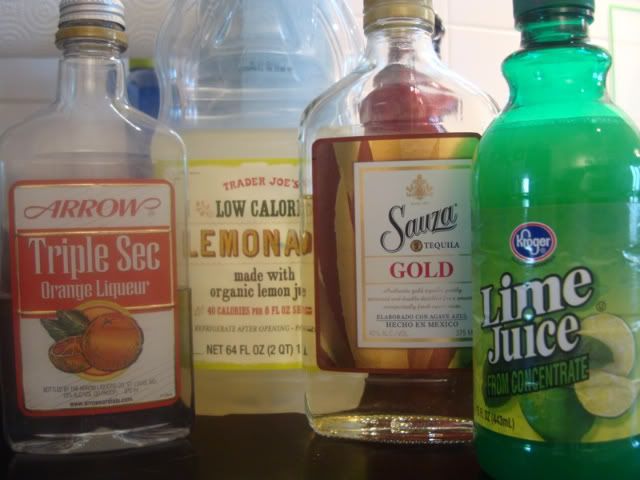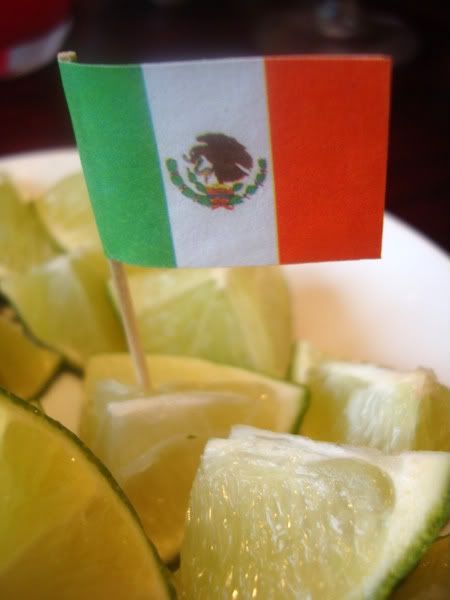 Unfortunately, my slow cooker is one of my kitchen appliances that I rarely use. However, when I do, it's always a success. This was an easy way to make the pork for our tacos.
I started with a 5 pound pork shoulder placed directly into the slow cooker. For spices...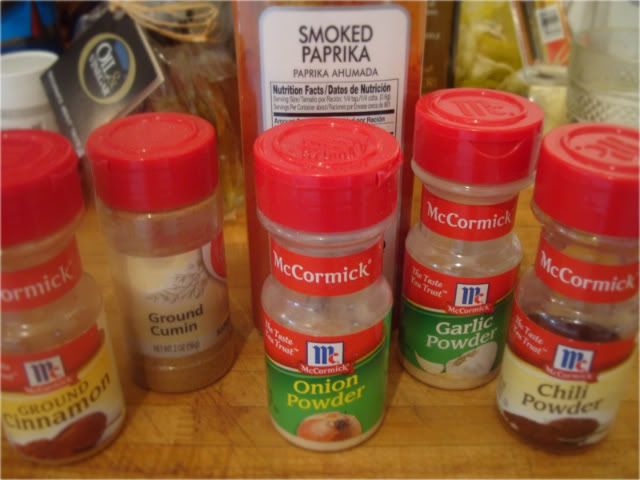 Combine in a small bowl:
1 Tbsp garlic powder
1 Tbsp cumin
1 Tbsp onion powder
1 Tbsp paprika
1 Tbsp cinnamon
1 Tbsp chile powder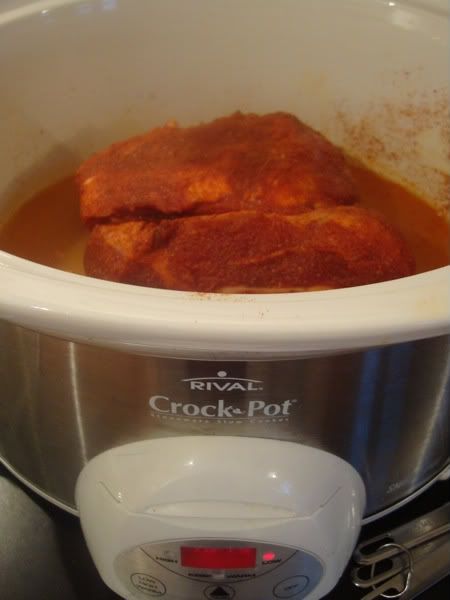 Once combined, rub directly into all sides of pork. Then add 1/2 cup water and 2 cups orange juice. Since I was working that day, I cooked this on low for 9 hours. You could also do high for 3 hours and then switch to low for another 3 hours, until meat falls off the bone. I transferred the meat to a serving dish and then shredded it. We served our tacos with onions, cilantro, radishes, and salsa from our favorite taco truck, Rancho Bravo.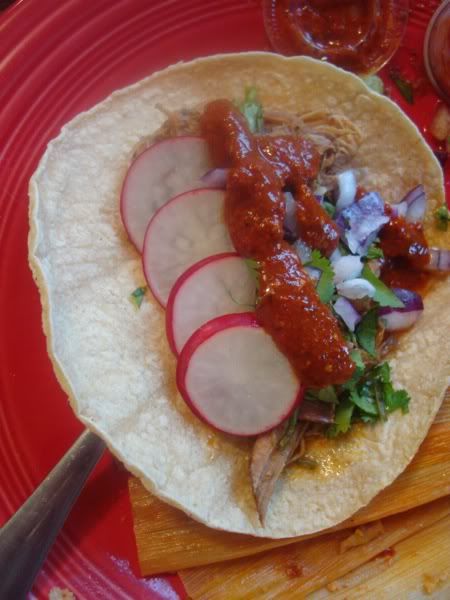 Nice taco George!
The next day, when you realize you have pork leftovers for days, you roll some up in a tortilla, add cheese, microwave for about 30 seconds and you are in Heaven!
I love brownies. There's just something about a perfect little chocolate treat! I had ambitions to make churros, or margarita cupcakes, or some other festive dessert, but my real job got in the way of my baking dreams for the day. I decided to make a regular brownie more festive by adding cinnamon.
I like this brownie recipe because it is prepared in one bowl Preheat oven to 350 and grease an 8x8 pan. Grab your bowl and mix together:
1 cup sugar
1 cup chocolate chips
2/3 cup flour
1/2 cup softened butter
1/2 cup cocoa ( I used Hershey's)
2 eggs
1 tsp vanilla
1/2 tsp baking powder
1 big spoonful peanut butter (totally optional, but I like adding it to my brownies)
1 Tbsp cinnamon
Bake for about 25 minutes. I decided to add more chocolate and cinnamon, so I melted about a cup of chocolate chips in the microwave. Spread that on top and sprinkle with more cinnamon! I thought the cinnamon added an interesting flavor. The brownies may have been slightly drier due to the extra cinnamon, but I still liked them!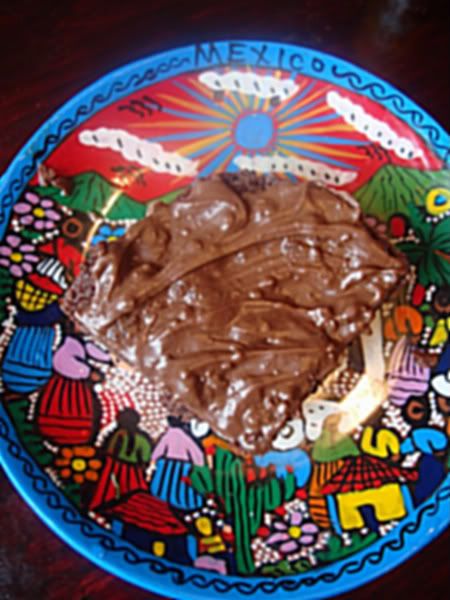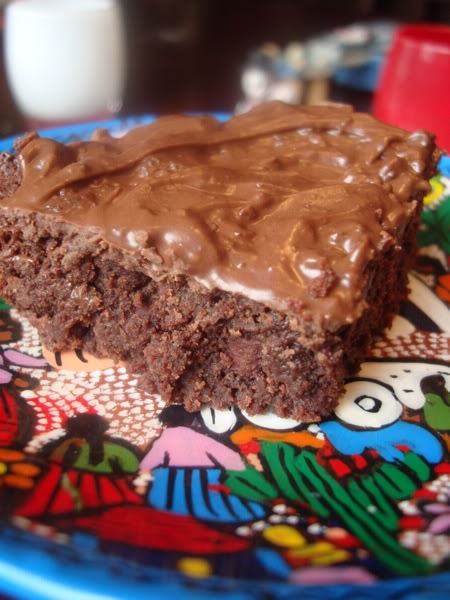 All of these things are great for Cinco de Mayo, or any day! Fun meal, with little prep work, but it seems like you put in a lot of effort. Next year I'll make those churros!