Sorry male readers (of which I think I have like 3) this is definitely a female-focused post!
BFF Nikki and I recently had an extra special manicure. We went to our usual nail salon, Diamond Nails on Queen Anne. We have both been going to this salon for a few years now and we really enjoy it. It's not spa-like, fancy, or tranquil, but they know how to do a good mani/pedi for a great price! ($25 for a mani-pedi)
Shellac is the hot new style of manicure. It goes on like a regular polish, but acts like a gel manicure. The Shellac system takes slightly longer than a regular manicure because you have to place your hands under a UV light after each coat. The polish color was applied with a tiny little paintbrush. I believe they had about 25 different OPI colors to choose from, I'm sure you'll find a shade you like.
The best part? As soon as the last coat is applied, your nails are dry!
No more sitting around waiting for your nails to dry, hoping you don't smudge them while looking for your car keys! This to me is a huge bonus!
The Shellac was slightly more expensive at $25 for the manicure alone, but I think worth every penny.
24 hours after manicure. Not a smudge to be seen! I had done dishes, housework, still in great shape!
One week later. Still not a single chip or smudge. I definitely had some grow out at the base of my nail, but still, I've never had a salon manicure look this good after a few days, let alone an entire week.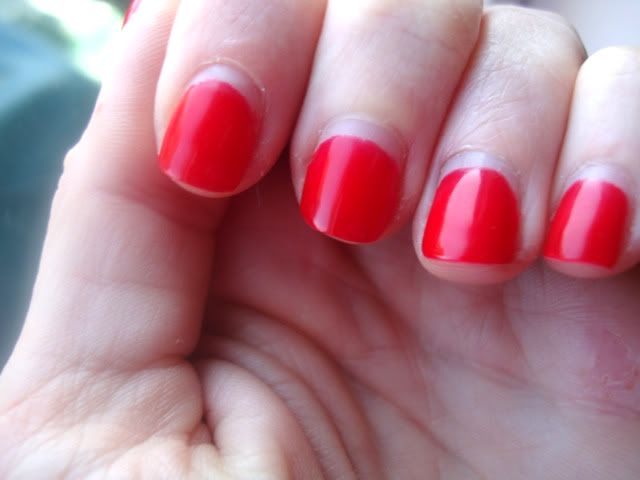 This is my left hand at two weeks. Still no chipping, grow out has definitely increased. The polish is starting to lift at the base, but still in pretty good shape.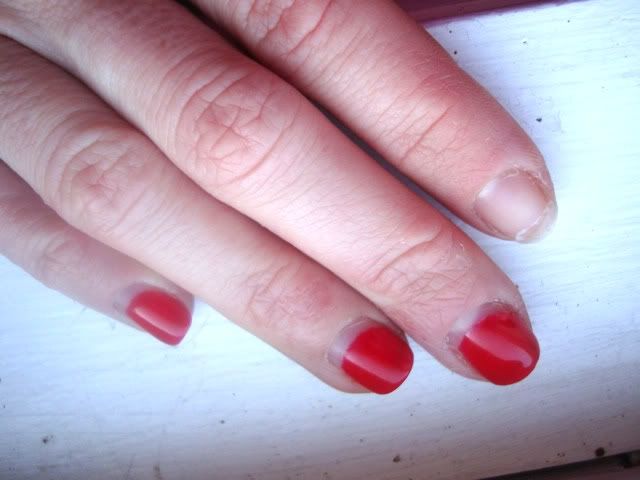 ah...the right hand! that pointer finger just didn't make it. However, after two weeks, I couldn't be too disappointed. I knew the dream had to end!
I am so happy with this manicure and I would recommend it to anyone. I think it would be great for a vacation, or a special event. I wish I would have known about this prior to my vacation/wedding in Cabo. I work with paper all day, I'm active, and I am known to wash an occasional dish, and I just kept waiting for a chip. It kept it's shine and never looked dull.
I've heard that you may not want to do a Shellac manicure all the time, as it may make your nails thin. I haven't noticed any change in my nails. I just removed the polish myself by peeling it off and it came off very easily. I think you can also have it removed at the salon.
If you haven't tried this yet, I think you should.
As my friend Kory would say, "you deserve it!"