Um, yeah....so.....tonight I roasted a chicken. I hate to toot my own horn but........
I'm so happy I did this and it turned out to be a great meal.
The idea of a roasted chicken seemed daunting to me. A roasted chicken is something I usually order at a French restaurant and eat with a gigantic plate of frites soaked in mayo with a nice glass of wine. I'll still do this.
Soon I hope.
Roasting a chicken is super easy. You prep it, season it, throw it in the oven, and sit there and watch it roast up.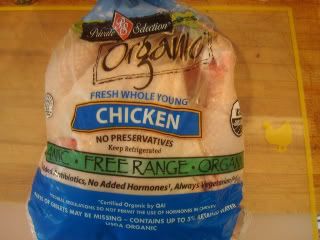 Did you notice my cutting board? It has a little chicken on it so you can prevent cross-contamination.
Preheat your oven to 450.
Take your chicken, remove the innards, and wash and dry it.
Next, you'll do your seasoning. Since this was my first roasted chicken, I decided to go basic.
I covered the chicken in oil, then salt, pepper, and a little paprika. I did the exact same process for the inside of the chicken.
Stuff the bird with anywhere from 8-10 whole cloves of garlic and 1/2 of a sweet onion chopped.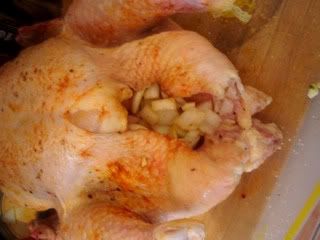 Place your chicken in a roasting pan. I added some small yellow potatoes to the pan to roast along with the chicken. The potatoes were simply coated in oil, salt, and pepper.
Honestly, that's it! Sit back and prepare to impress your dinner companions.
Have you ever smelled a house with a chicken roasting in the oven? Wow. That's good. I think it should be a candle. Dear Yankee Candle company.....
I roasted my chicken for just over an hour. A meat thermometer should read 180 degrees. Let chicken sit for about 10 minutes before you carve.
With potatoes and a little veggie on the side, you have a great, hearty meal.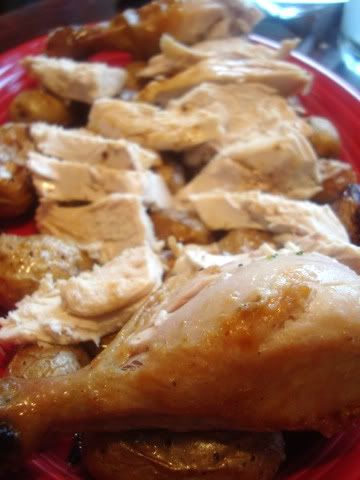 Darling hubby loved it. The chicken was moist and delicious. The potatoes roasted up perfectly.
This chicken was enough to serve the two of us, with leftovers for lunch.
If you haven't tried roasting a chicken you should! It's easy and tasty.
I'm already thinking of the next dinner I'll make with a tasty roasted chicken!