I adore bell peppers. I basically eat one everyday.
No dip, nothing fancy. Just cut and eat.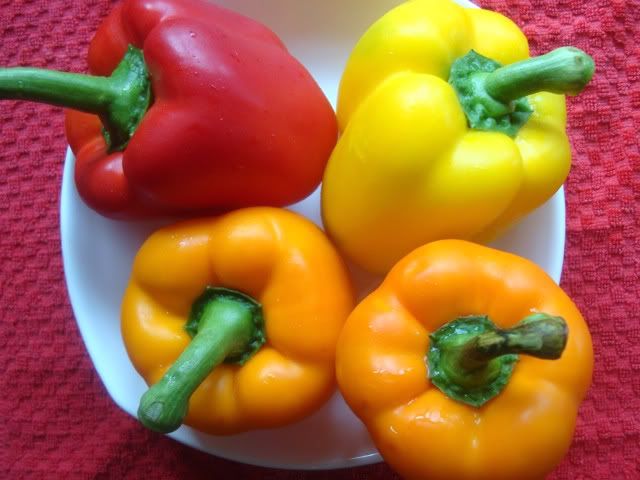 Great source of vitamins and just all around yummy.
How do you make this little treat even better?
You stuff it...and top it with cheese.
I used my favorite quinoa in this dish.
Have you tried it??
Seriously...
go to Trader Joe's and buy this
....it's a pantry must.
Combine quinoa, ground turkey, diced tomatoes...dinner!
Easy and healthy and I love that it comes in it's own little serving dish...that you eat.
Darling Husband even had two! So proud.
Quinoa (follow instructions on box for preparation)
1 can diced tomatoes (14.5 ounces)
1 small onion finely chopped
cheese of your choice ( I used mozzarella)
This recipe made enough to stuff 4 peppers and there was enough left over for me to eat the next day.
Wash peppers, remove stems and seeds, place right side up on a baking sheet.
Prepare quinoa following directions on box.
While quinoa is cooking, heat some olive oil in a large skillet. Add onion and garlic and cook for a few minutes, until translucent. Add turkey and brown. Once turkey is brown add the entire can of tomatoes and mix till combined. Add your prepared quinoa to the pan with the turkey, stir together and you have your stuffing! Feel free to salt and pepper as needed.
I put a little cheese in the bottom of each pepper. Fill each pepper with the quinoa and turkey mixture. Bake for about 20-25 minutes. Remove from oven and sprinkle each pepper with cheese, bake for another few minutes, until cheese is melted.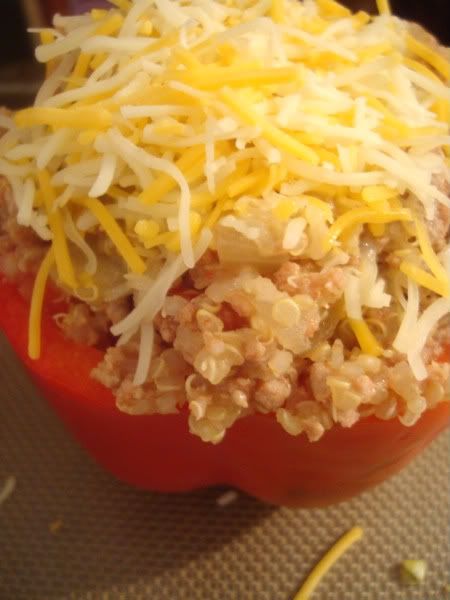 So easy! I love how the quinoa adds a lot of protein and texture to this dish.
I think they would also be good with orzo.
That's the great thing about this dinner......
You can customize it to however your family would like.
In no time you have a healthy, bright, fun dinner on the table and it's very little clean-up!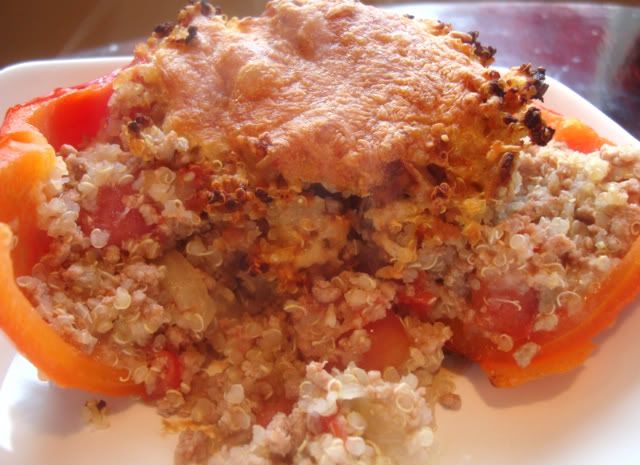 Since you ate such a healthy dinner..have a treat. Maybe a
slice of this...
What's your favorite vegetable? How do you incorporate them into your family dinners?