Hello cute little friends! (I'm talking to the tomatoes..not you, but yes, you are adorable)
I found these little darlings at Trader Joe's. Mini heirloom tomatoes!
I have a thing for heirlooms. The colors are so rich.
I love how some of them look so mangled, but you buy them anyway.
The flavor..it just can't be beat.
These little guys were quite affordable and I picked some up to throw in a little salad.



Heirloom tomato salad.
serves 2 as lunch, or 4 for a side, or 1 if you are me.

1 pound mini heirloom tomatoes (you can find these at Trader Joe's, or sub regular heirlooms) cut in half
1/2 red onion, chopped
basil
mozzarella cheese

for the dressing:
1 Tbsp red wine vinegar
1/4 cup olive oil
1/2 tsp Dijon mustard
salt and pepper

Combine vinegar, mustard, salt and pepper until. Slowly whisk in olive oil. Whisk constantly until dressing is combined. Toss gently with tomatoes and onions.
Dish up tomatoes and onions, then add your cheese and basil. For the cheese I had some fresh mozzarella that I cut up. Add as much or little as you like.
With the basil, I just stacked 3 or 4 leaves, then rolled them up and cut them into even strips. (Fancy people call this chiffonade, I do not.) Finish your salad with the basil and you are set!


This was a quick, easy, and tasty salad. If I'm being honest, these little tomatoes weren't quite as tasty as traditional heirloom tomatoes. They had more flavor than regular cherry tomatoes, but not that exact rich flavor I was hoping for. For the price and convenience, a solid buy in my opinion. I don't think you will be disappointed!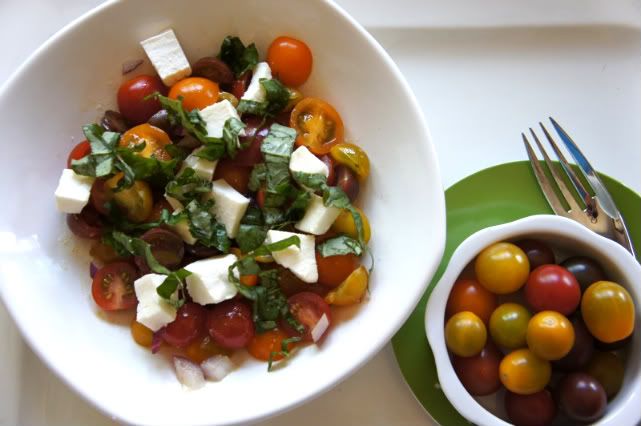 This is a perfect dish to serve in the summer. Bright and colorful and full of fresh flavors!